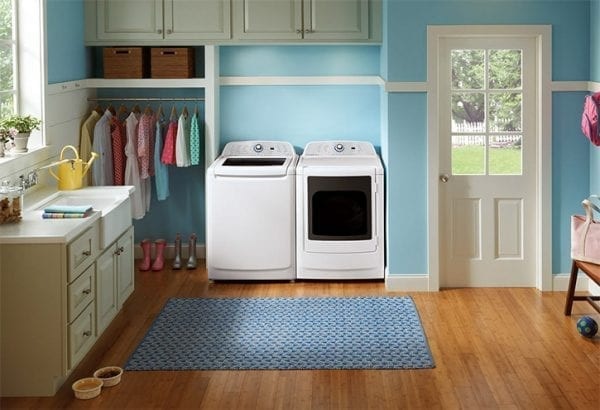 What sort of laundry habits do you have? Your ways of using a washing machine will affect your clothes, as well as water and energy use. For that reason, all owners — new or experienced — should learn or refresh their knowledge on how to use their washing machine properly to fully enjoy its benefits.
Follow this complete guide from Frigidaire Arabia to learn how to operate a fully automatic washing machine, whether for a top loader or a front loader.
1. Check for care instructions from your clothes tag
2. Sort your laundry properly
3. Choose the right settings
4. Add detergent, softeners, and boosters
5. Load laundry to your washing machine and turn it on
Step 1: Check for care instructions from your clothes tag
While most clothing can be machine-washed, it's always a good idea to read the care label, especially for woollens and delicates. Some need to be hand-washed or dry-cleaned, and some can't withstand hot water or bleach. However, today's modern washers feature programs specially designed for targeted care of different materials and garments.
So, when checking the care instructions, keep the model of your machine in mind. This will be helpful for further sorting and for planning the cycles you'll use.
Step 2: Sort your laundry properly
Avoid putting all of your clothing in one load since various types of fabric require different ways of care.
Even though it's so much easier to throw everything in there all at once, it's crucial not to skip this step because this will play a big role in preserving your clothes' shape, colour, and overall quality. Depending on your load for the day, separate them onto different baskets.
Sort your clothes by fabric
Not all fabrics can be washed, agitated and dried in the same way as others. Keep them from damage by separating them based on weight and/or fabric type.
Avoid loading heavy items like towels and blankets with items that are lighter in weight like lingerie and delicates. Lint-shedding garments and lint-attracting ones such as microfibre and corduroy should also be divided into separate groups.
Sort your clothes by by colour
Divide your clothes into darks and lights. If you want to be extra careful, separate the pure whites and jeans as well. By doing this, you can prevent bright or deep dyes from bleeding into your other garments. For new ones, turn them inside out because they're more likely to lose some colour in the first wash.
Use a laundry bag for your small garments and delicates
Put delicates or small items such as silks, lace, lingerie in a mesh bag to avoid wear and tear when they rub against one another. Clothing with zippers, buttons and snaps might snag them so it's better not to mix these in.
Step 3: Choose the right temperature settings & washing programs
The settings you select will determine how your garments are washed and spun, as well as how your energy and water will be spent. So, avoid guessing which buttons to press.
Knowing all of your washing machine's special features and which to choose can help you get the best results.
Choose the suitable temperature
The right water temperature is critical in keeping your clothes last longer. Hot water works effectively in removing bacteria. However, it may use up more energy, fade colour, set stains, and shrink garments.
This comes handy on heavily soiled items like cleaning cloths and towels. For most items, use cold water to be gentler on your clothes, and the environment.
While most people worry that using cold water for washing won't be effective enough, this concern is actually a result of what you were taught or "auto-pilot" laundry routines. According to a study, washing at 30°C rather than 40°C use almost 40% less energy.
Reconsider your habits and have faith in your washer. Outdated rules and antiquated equipment are most likely causing more harm than cold water.
Choose the appropriate washing program
Your choice of washer cycle will affect how well your clothes are taken care of. If you select the wrong one, it might result in faded shirts or damaged delicates. This is where checking the care label comes in. Make sure you follow the instructions to get the best results from your washing machine.
Match the cycle to your load since certain fabrics require different washing machine programmes. Is your laundry mostly whites? Delicates? Or coloured?
There are two distinct speeds in each cycle:
The wash speed: This is when your items are tumbled with water;
The spin speed: Your clothes are spun to remove water at this speed.
These two differ from cycle to cycle, but generally speaking, more agitation offers better cleaning performance, and less agitation ensures better fabric care.
The washing machine programmes will vary depending on the model or brand, but almost all will feature the basic ones as follows:
Normal or cotton;
Permanent press or mixed;
Delicates
Though the below guide is not specifically for Frigidaire washing machines, you might still find helpful instruction as they are generally applied for most washers:

| | |
| --- | --- |
| Washing program | Type of Laundry |
| Cottons | Coloured and white cotton |
| 60 min Full wash | Coloured cotton such as blouses, towels, shirts, and undergarments with normal level of soil |
| Wool / Handwash | Specific washing program for woollen items with "Pure new woollen, non-shrink, machine washable" label |
| Mixed | Mixed or synthetic fabric items |
| Delicates | Delicate fabrics such as acrylics, viscose, polyester items |
Modern washers provide greater features and flexibility. For example, some Frigidaire washing machines include programmes specially designed for your certain needs like Quick Cycles to save your time, Woolmark Blue cycle to safely dry your treasured woollen items, and AutoSense feature to adjust the time, water & energy according to laundry size.
Here are some recommended Frigidaire washers for your reference: